Pay-per-click advertising lets you pay for your marketing campaign for a faster path towards more leads and more sales with a optimized PPC Management plan
What is PPC?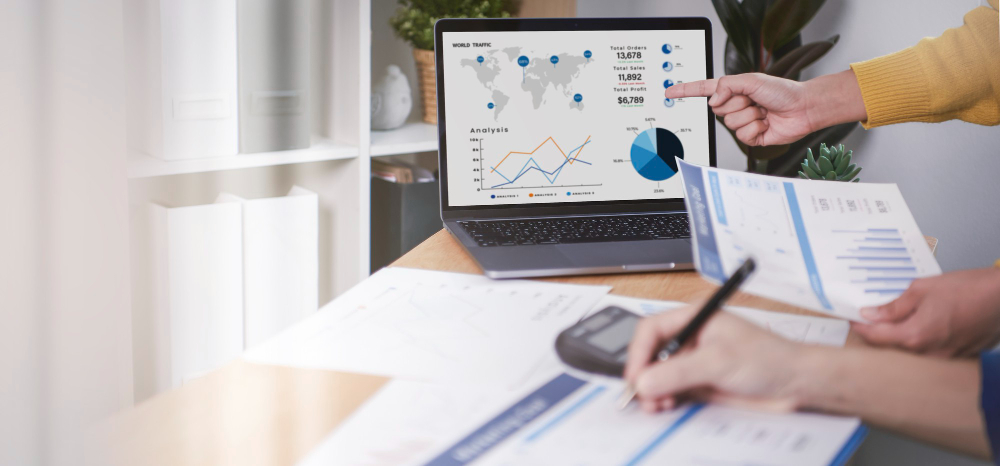 PPC, or pay-per-click advertising, is a marketing strategy where an advertiser pays a search engine or social media site each time their ad is clicked. While SEO marketing solutions can sometimes take a long time to implement and see success from, PPC advertising is a great way to increase traffic to your website quickly.
PPC Management isn't just as simple as coming up with an ad and paying for it to be published, however, as the price you pay for each click is dependent on the quality of your ad and its relevance to the keyword you're targeting.
Read on below to find out exactly how this works and why hiring a digital marketing agency can help.
How do PPC ads work?
With so many businesses vying for attention, Google and other search engines need to charge different amounts for advertising spots with a different level of demand. To decide which businesses get to show their ads and how much they'll have to pay, these companies implement a process called an ad auction.
An ad auction isn't like a traditional auction where you can outbid the competition to secure the prize for yourself. The advertising platform, whether it's Google or Bing or any other site, will rank different ads for each keyword with a "quality score" that determines how relevant they are to the target market. To receive a high quality score, your ad will need to have the right keywords and receive high click rates.
When building a PPC marketing campaign, you'll be competing for the keyword you want against many other businesses, so your ad needs to be relevant and of high value to search engines and their customers. This is a great system because a poor quality score can let you know that your ad needs improvement before it will be successful at converting clicks.
How can a digital marketing agency help?
While it's possible to run a PPC advertising campaign on your own, your skills as a business owner are best suited to running your business and engaging with your customers. Marketing and advertising is one field where the return on your money from investing in a team of professionals can be worth far more than what you spend.
A digital marketing agency like YellowJack Media will help you research target keywords, optimize your ads for those keywords, connect with all types of different customers, and develop a landing page to increase customers' interest in your business after they click on your ad.
Manual research and optimization
Hiring a digital marketing agency like YellowJack Media will ensure that you get feedback and market research that is customized for your business goals. Advertising is not a one-size-fits-all kind of job, which is why it's helpful to have a team of professionals helping you make informed decisions.
English or Spanish marketing campaigns
Especially in our home area in Florida, business being conducted in languages other than English is becoming more and more common. There are over 40 million Spanish speakers in the US, and our multilingual team is well-equipped and ready to help you build your PPC advertisement campaign whether in English or Spanish.
The importance of a landing page
Having advertisements that get clicks is important, but what separates successful businesses from unsuccessful ones is being able to turn those clicks into customers. This is where the value of a great landing page cannot be understated. A landing page is the first thing your potential customers will see after clicking on your ad, and we'll help you set it up in a way that helps convert visitors to your site into customers supporting your business.
We can manage your PPC campaign for:
Google ads
LinkedIn ads
Facebook ads
Bing ads
Benefits of PPC over other marketing strategies
Very high ROI: Since PPC advertising lets you pay only for the people who click on your ad, your customer acquisition costs can be lower and your ROI can be higher than other traditional marketing strategies. The likelihood of a potential customer supporting your business skyrockets when they visit your website, which is what makes clicks a perfect metric to base your advertising strategy on.
Makes it easy to optimize your strategy: PPC makes it easy to optimize your marketing strategy, as the cost of your advertising will relate directly with how well it's working. You'll know if your ads aren't effective because you won't be getting clicks, and since you're paying per click it's easy to fine-tune your advertisements over time to find something that works without wasting money.
Ads can be edited at any time: Since PPC advertisements can be edited at any time, it's easy to revise an advertisement or run a whole new one in the event of a sale or if you have something in particular you want to promote. This is one huge advantage PPC has over SEO, as it doesn't make sense to change the SEO structure of your website to promote one sale or special, but it's a very useful strategy for PPC ads.
Lets you get in touch with customers immediately: Long term, every business with an online presence should have a strategy for implementing SEO and generating more organic traffic to their website. As a new or growing business, however, you don't have the time or money to just sit around waiting for organic traffic to come. Running a targeted PPC campaign can help jumpstart your business.
Contact us for a free PPC audit
Investing in advertising can be a daunting step for a growing business, but YellowJack Media takes away the risk through advertising by helping you run a targeted PPC campaign through Google ads or Bing ads. We'll help you optimize your advertisements to appeal to your target market and help you set up a great landing page to convert clicks into customers. Contact us here to schedule a free 15-minute session and get a free PPC audit.