Effectiveness of using a landing page to convert customers.
Landing pages are the first page a potential customer 'lands' on when following a link through digital marketing. The goal of the landing page is to capture information from the potential customer through a single call to action. Typically, there is an incentive for the customer to give up their information, such as a coupon or a free service.
At YellowJack Media, we utilize landing pages for conversion optimization in our digital marketing campaigns.
Why use a landing page?
Landing pages are more efficient than home pages in terms of increasing conversion because they minimize distractions for the customer and only offer a single choice. In fact, the conversion rate for a website as a whole is 2.5%, compared to the 3-5.5% of a landing page.
Typical home pages have multiple links, with multiple calls to action. This can distract the site visitor and deter them from reaching your ultimate goal: conversion. Conversion rates depend on the industry, but it is possible to achieve and maintain the benchmark of a 10% conversion rate with an expertly crafted landing page.
What comprises a good landing page?
An effective landing page has a single desired end result of conversion. There is no fluff or extra information on the page, except what is pertinent to the call to action. The customer who follows the link to your landing page is already interested in your service or product and therefore more willing to convert. Apply the following tips to your landing page to help increase your conversion rate: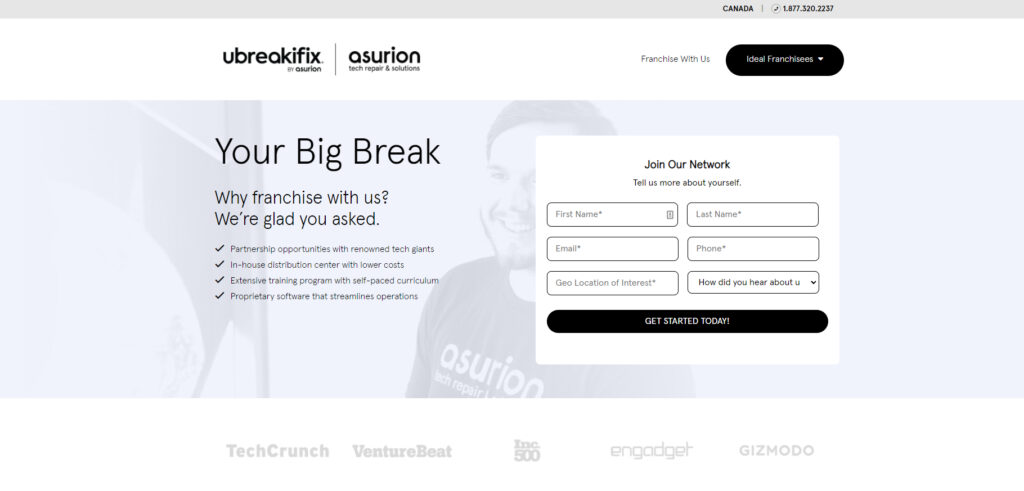 Communicate Value – Create an incentive to complete the call to action. Customers are interested in what they can gain from clicking on your conversion button. Including a bullet point list of the benefits of completing the call to action is a great way to communicate incentives.
Inspire Trust – Customers are prone to distrust, so it is essential to promote a feeling of honesty and trustworthiness on the landing page. This can be accomplished by having testimonials, reviews, or a FAQs section included. Also, being upfront about what the customer will provide you encourages conversion.
Eliminate Distractions – Decide what your marketing campaign goal is and create a single call to action based on that goal. Do you want customers to sign up for your email marketing campaign? Do you want them to start a free trial? Keep the call to action clear and honest. A sign-up form is an efficient way to capture leads with a proven 23% conversion rate.
Show your product or service – This seems obvious, but when a video or product demo is included on a landing page, conversions increase by 86%. Videos add a layer of comfort and direct communication to the customer that is extremely valuable.
Technically speaking
Landing pages increase the relevance of pay-per-click marketing campaigns by displaying the ad more frequently for the same cost. As the relevance of the click increases, the associated cost for the click decreases.
Relevance is determined by many factors, but a single keyword ad group (SKAG) helps to increase relevance by improving your search engine quality score.
When SKAGs and PPC strategies are combined for a unique landing page, the ultimate advertisement can be achieved. Conversions can increase dramatically with effective landing page design. Including a landing page in your online marketing is a great way to grow your conversion rate and visibility in search engines.